Open Chrome and search for anything you want. The links you see with written "AD" beside them are the result of PPC (Pay per click). On the other hand, the links ranked after ads are the result of SEO (Search engine optimization)
As an inexperienced business person, you might be wondering which digital marketing tactic will boost your business's profitability rate.
Well, 63% of the searchers click on google ads. On the contrary, the process of organic marketing can get you 50% of traffic from authentic sources.
If you want to opt for SEO, long-term ranking and consumer engagement are guaranteed. But going for PPC will definitely get an ocean of visitors and potential buyers within a blink of an eye.
You must be in chaos; which option can restrain you from flushing your money down the toilet?
Read the difference between a search engine and copywriting and CPC and clear up your muddled mind.
The difference between PPC and SEO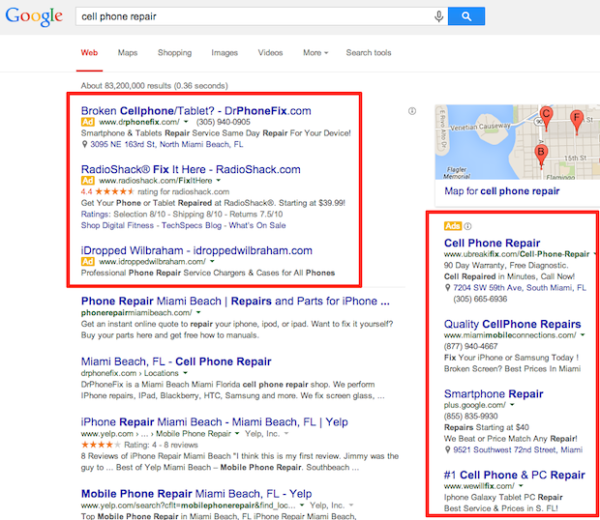 For someone, who has just stepped into the digital world, social media marketing, paid and organic ads, and content creation all must be chaotic.
We understand shifting from traditional marketing to digital marketing is a bit confusing. Trust us, the change in promotional tactics is the best thing that has ever happened to the advertising world.
Being a marketer, you might have received expert advice on utilizing PPC and SEO. After reading the intro, you might have made up your mind about which strategy to use. Take a deep breath and read the following information to protect yourself from taking any wrong turns.
Even though both strategies work brilliantly but you have to err on the side of caution.
For example: If you are one of the British SEO experts, you will have to choose your technique based on the nature of your work.
Let's have a look at how each gambit works.
Sales vs visibility
Sales and visibility. Both terms are equally important for a business person. Without visibility, no one will know that you exist, and without sales, you will fail to cover your investment.
Pay-per-click helps to increase your sales, making you cover your investments overnight. SEO can help you stay visible on the 1st page of Google for as long as you like.
Now the choice is yours. Partying for two months with your boosted income or having a stable and secure future.
The operating cost:
For entrepreneurs, a penny saved is a penny earned. They opt for sources that are both time-saving and cost-saving.
If you are a frugal business person, getting your content ranked on the top at $3.12 per 1000 impressions is best. This process can be time taking, but it will get you the placement that you truly deserve.
Cost per click, on the other hand, can get you instant traffic is $2.59 per click.
For example, you are one of an SEO company in the UK, and you sell your services during seasons. The paid advertisement will be more beneficial for your part-time work as it will get you, instant clients. But, if you are a professional writer, providing your services 24/7, organic marketing will be more efficacious. Benefiting your business in the long term, it can increase your visibility for at least two years.
Traffic:
Depending on the nature of your business, you have to decide whether you want web traffic instantly or with time.
What do you think the best textile brand online would go for?
Since they are already the best, they don't have to generate sales by emptying their pockets. All they have to do is to maintain online visibility for a long period of time to spread more awareness. This can be done with the process of optimization.
But if someone is a seasonal worker, as we have discussed above. Going for PPC will be better for them. Pay the amount today and find your website on top showed ads the next day. You can get a hue we traffic in a short span of time.
Since both have their pros and cons, people might be about which one to opt for.
SEO OR CPC?
61% of marketers choose search engine optimization to boost their organic presence. 64% of the brands plan to increase their Pay per click budget within the next 12 months. When the percentage for both strategies is so high, it can be difficult to decide which one to go for.
Since there is always a way out, you can opt for both at once. Utilizing both tactics at once has its own benefits. When you spend money to boost your sales and ranking both, the chance of enhancing business growth is higher.
Suppose you are one of the best PPC agency in London, expanding your market somewhere else. Try paid and organic advertisements to boost your rank in that particular region.
Benefits of using paid and organizing advertising techniques at once:
Increased confidence and awareness
The commercial keywords target the consumer at all stages of purchasing, from researching a product to finally buying one.
Keywords can be shifted to organic search from CPC
Remarketing allows you to be visible in front of your potential clients
The incredible combination aids in Increased business results and SERP outcomes
It helps you learn more about your audience, observing their searching behavior
You can have multiple data to analyze, which can be helpful in making appropriate decisions and taking calculated steps.
The dual use of keyword data can bring huge traffic to your website.
In the end
Every entrepreneur dreams of having a big, established business. The main profiting elements for a business are its sales and positive outcomes. The two digital marketing tactics discussed in our passage are very efficacious. Based on the nature of your work, you can utilize any one of the strategies or both at once.
Using both can help you make an appropriate decision if you have a budget.
It is best to go for search engine optimization if you are tight on budget and have long-term plans for your company. On the other hand, if your business is temporary and you want to cover your investment as soon as possible, cost per click can be advantageous for you. The statistics and information mentioned above might be helpful for you to make a choice. Now you can easily take your decision and bring your company to the top.